Aforismy Global Digital Report 2019: all the social statistics to know
The last Global Digital Report by We Are Social and Hootsuite reveal that Internet users grow on average by over a million every day, with all the "Next Billion Users" finally coming online.
In this article we will analyze in detail all the main trends and insights of the reports of this year in the section dedicated to Social (for the complete statistics we refer to the reading of the original article – link at the bottom of the page), but here are the main numbers to understand the "Digital in 2019" report:
5.11 billion unique mobile phone users in the world today, up 100 million (2%) in the last year.
4.39 billion internet users in 2019, with an increase of 366 million (9%) compared to January 2018.
3.48 billion social media users in 2019, with a total world total of 288 million (9%) compared to last year.
3.26 billion people use social media on mobile devices in January 2019, with a growth of 297 million new users, an annual increase of over 10%.
Internet users in 2019 by Aforismy
If 2018 was another year of impressive growth in all that is the digital world, what is most striking about the numbers this year is that the growth of internet users has actually accelerated over the last 365 days, with more 366 million new users who have joined the online since the "Digital 2018" reports were published.
With thousands of graphs detailing more than 200 global and local reports, this year's Global Digital reports are one of the most complete and up-to-date studies on the world of internet users. In the coming days, local reports will also be published at national level, while this first major study invests globally in the trends and insights that all those working in the digital world should know to better face 2019.
As we said, the above-mentioned annual growth figures are already impressive, but an even more surprising picture emerges when a longer-term view is taken into consideration.
The number of internet users worldwide has increased by over 1.9 billion compared to 2014 reports, with an increase of over 75% in just five years. Also the total of 4.39 billion global users this year is more than double compared to 2.08 billion recorded in the first Global Digital report in January 2012.
User behavior on the Internet in 2019
Even the ways in which people use the internet are increasingly evolving, with rapid and exponential growth, with mobile which represents an ever increasing share of online activities. In the section dedicated to mobile phones and the use of apps it is worth noting that the time spent by users on mobile phones represents half of the time people spend on the internet.
What is striking is also the time spent online which averages around 6 hours per day.
An average of over 6 and a half hours a day is equivalent to a total of over 100 days of online time each year for each internet user . If we extend this average over a total of almost 4.4 billion internet users, we find that in 2019 humanity will spend a total of over 1.2 billion years online.
But what do the 4.4 billion and 400 million Internet users in the world actually do for those 6 and a half hours a day?
As might be expected, the 4.4 billion users spend most of their time on Google which continues to dominate the ranking of the most visited websites in the world , with SimilarWeb and Alexa putting the search giant at the top of their tables , with YouTube in second place on both lists while Facebook ranks third.
The social media platforms are strongly present in the lists of both companies, and it is interesting to note that Twitter continues to show strong results in the rankings of the websites, although its user base is constantly decreasing.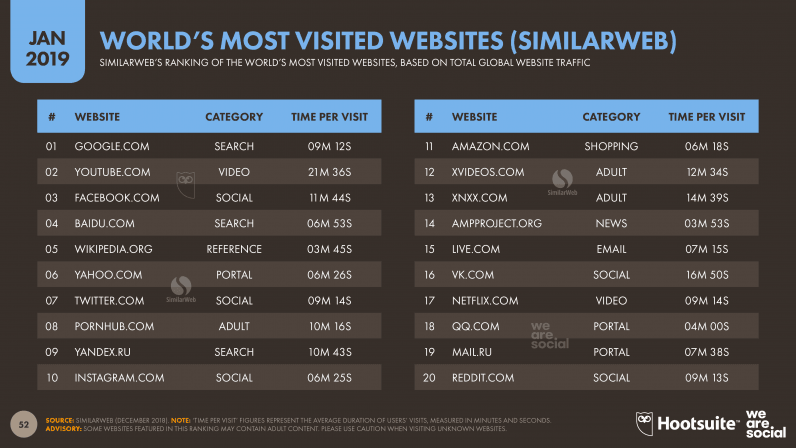 As we will see below, the Digital 2019 report includes insights on the use of the best social platforms in the world in more than 230 countries and territories around the world. However, these in-depth numbers tell a mixed story, with some platforms showing impressive growth in the last 12 months, while others have started to lose ground.
The number of social media users worldwide has risen to almost 3.5 billion in early 2019, with 288 million new users in the last 12 months, bringing global usage to 45%. The use of social media is still far from being evenly distributed around the world, just look at the penetration rates in parts of Africa that are still single-digit.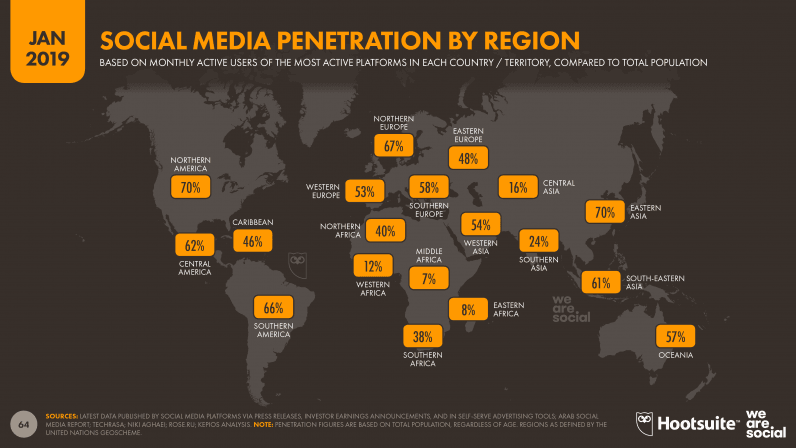 On the contrary, the five-year growth data for social media users are even more surprising than those for Internet use, with a global total of social media users almost doubled compared to Digital 2014 reports. year, amounting to 3.49 billion, slightly more than 2 billion compared to 1.48 billion which were published in the first Global Digital report in January 2012.
The global social media audience has also matured, with people around the age of 30 now representing the majority of social media users in the world. The elderly public is also the most represented and the various Facebook platforms report an increasing number of users over the age of 55 compared to users under the age of 18.
What do users do on social media in 2019
The amount of time people spend on social media has also increased this year, albeit very slightly. GlobalWebIndex reports that the average social media user spends 2 hours and 16 minutes a day on social platforms (compared to 2 hours and 15 minutes last year) which is equivalent to about one third of the total internet time and one seventh of their work life.
As with the use of the Internet, this time adds up quickly: if we extend this average daily time to all 3.484 billion people using social media today, we get a total of almost 330 million years of human time spent on social platforms during 2019.
It is worth noting that time spent on social media varies considerably from one country to another, with an average of only 36 minutes a day for internet users in Japan. At the other end of the scale, Filipinos continue to spend most of their time on social media, with an average of 4 hours and 12 minutes this year reflecting an increase of 15 minutes per day (6%) compared to the average which we reported last year.
However, not all that time is not spent on "being social". GlobalWebIndex data shows that 98% of internet users in major world economies have visited a social media platform in the last month, but only 83% have actively engaged with, or contributed to, those platforms.
Meanwhile, the average user now has an account on almost nine social media platforms, but does not necessarily engage with each of these accounts every month . People are increasingly using social media even for work activities , with almost a quarter of users reporting having done so in the last month. If we extend this average to the total number of social media users worldwide, the data suggests that todaymore than 800 million people use social media for work .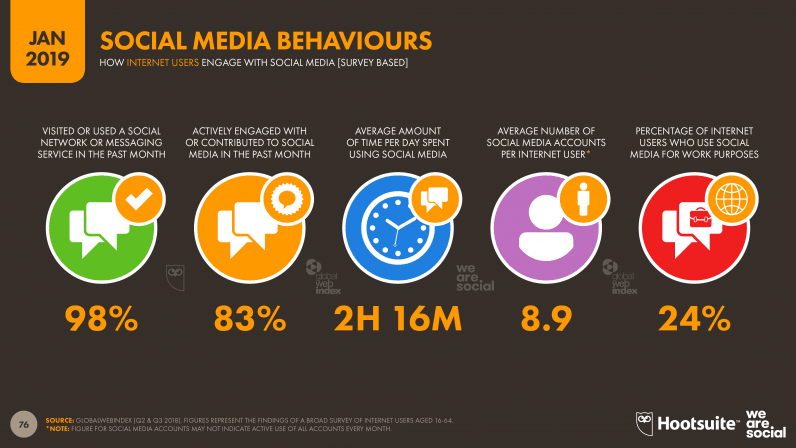 The best social media platforms in 2019
Despite the fact that 2018 was a difficult year, Facebook maintains its first place in the platform's ranking at the beginning of 2019 and – contrary to the media hysteria in progress – there is not much evidence to suggest that people are leaving the platform significantly .
In fact, the number of active monthly users of Facebook ( MAU ) has grown steadily over the last 12 months, and the latest announcement of platform earnings reports user growth of almost 10% compared to the previous year.
YouTube is in second place this year, but the world's favorite video site has posted an impressive number of new users over the past year, and looks set to be the next social media platform that will exceed 2 billion users.
Even WhatsApp is growing fast and WeChat (Weixin in China) has made another strong year also in 2018, with the first Chinese platform that in the last 12 months has become part of the prestigious "billion users club". The club now also includes Instagram , which revealed that it passed the billion-dollar milestone account in June last year, while Twitter had a disappointing year in 2018, and the platform starts 2019 with a drop of 4 million users compared to last year.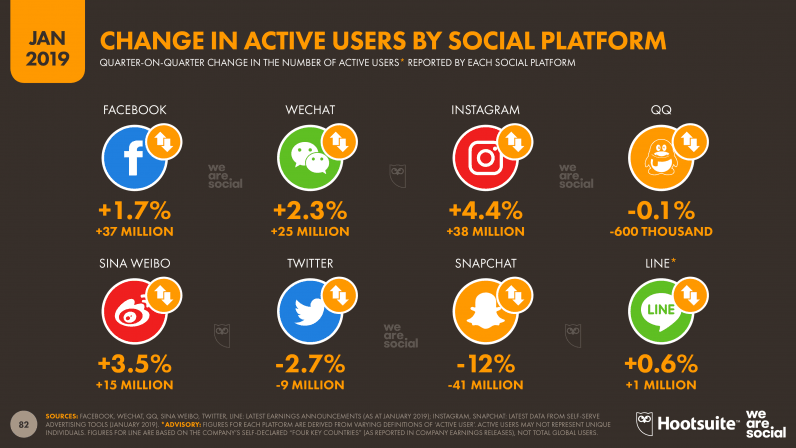 Before taking a closer look at the numbers of the individual platforms, it is important to remember that the following data may not be directly comparable with those reported in the 2018 Digital reports.
The new reports for this year are based on the addressable advertising audience figures of each platform – rather than on the monthly MAU (MAU) numbers – because this "advertising public" data is updated more frequently and is easier to compare on a comparative basis between the different platforms.
Facebook
Let it be said, the number of Facebook users continues to grow all over the world, with the platform that adds 18 million new users to its advertising audience referable only to the fourth quarter of 2018.
The negative news is that Facebook's advertising audience has lost 10 million users from 13 to 17 in the last 3 months of 2018 , although it has compensated this loss with an equivalent gain in the number of users over 55 years.
With an addressable advertising audience of over 300 million active users, India is now firmly established as the leading Facebook market , and the platform added 50 million new users in the country just last year. Users in the Philippines have increased by 2 million also in the last 3 months and by 8 million in the entire year until January 2019.
Rather than drastically reducing the number of users, Facebook's most worrying trend is the decline in engagement .
The average number of posts "liked" by the typical Facebook user has decreased by 10% in the last 6 months, and now stands at 9 per month. Perhaps even more worrying for Facebook, even the number of times people click on ads on Facebook is falling. The global median still stands at 8 clicked ads per month, but the detail by gender shows that men and women are clicking on fewer announcements today than last July.
The latest figures from the long series published in the official report show that the organic reach and the management decreased by 2.3% – or 14 basis points – from October. Similarly, the average commitment with Facebook page posts has also decreased by over 2% in the last three months, with less than 4 out of 100 people seeing a Facebook page post in some way engaging.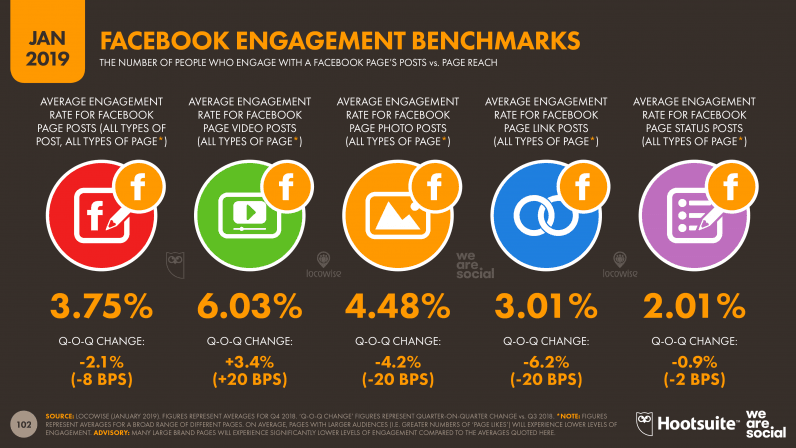 Surprising data tells us a perhaps obvious truth, that Facebook users don't just go to Facebook to see advertisements, but mainly to stay in touch with friends and family, and these activities take up most of the time that people they spend on the platform.
With more than 80 million small and medium-sized companies that publish pages and posts on Facebook, it is increasingly difficult for small brands to stand out, especially since the amount of time people spend on the platform, as we said, is decreasing.
Users engage with the things that most interest them. It may seem a simplistic statement of the obvious, but marketers must recognize that no media investment on Facebook will make their content more interesting or more engaging.
If you want to be successful with Facebook marketing, you need to give people more than they want, and think less of brand's corporate propaganda.
Instagram
Instagram will be the best choice for brands in 2019 , so it's worth spending some time exploring the audience's appearance on the platform.
Despite some obstacles to leadership in 2018, Instagram has recorded some strong numbers over the past 12 months. In June, the company announced that it had passed the 1 billion "active account" milestone, and although the company later clarified that this figure did not represent unique users, the milestone was no less impressive.
The latest publicity figures for the platform show that this strong performance continued until 2019, with active users growing by over 4% in the last 3 months to reach an advertising audience of 895 million active users worldwide .
The platform has seen its total global advertising audience increase by over 38 million new users in the fourth quarter of 2018, compared to the growth of 18 million new Facebook users in the same time period.
The growing popularity of Instagram among marketers is not only due to the growth of the user base, but the platform also boasts a balanced audience profile .
Globally, Instagram users are roughly 50:50 between women and men and – while the average age is even younger than Facebook – Instagram has a higher incidence of users in the 18 to 34 age group than to Facebook (although with a lower total number of users in that age group).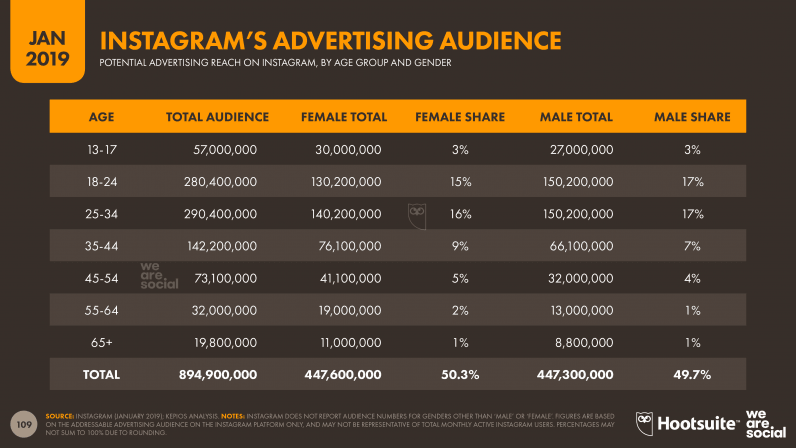 Instagram is also popular in a number of countries where Facebook struggled to gain the visibility it demanded. In particular, Instagram has gained a considerable – and growing – public in Russia, and this trend is reflected in a number of countries in Eastern Europe and Central Asia.
The Instagram public has now surpassed that of Facebook in 20 countries around the world , and we expect this number to increase during 2019, when the popularity of Instagram comes to the fore.
It is worth noting that the most recent data suggest that consumer brands still have work to do when it comes to engaging their audience on Instagram.
A single consumer brand – Nike – makes Instagram the list of the 20 best "most-followed", with the remaining commercials dominated by celebrities. Careful readers will also notice that the Kardashian clan represents four of these 20 best accounts, so Instagram will have to be careful not to trigger another Snapchat-Kylie-Jenner.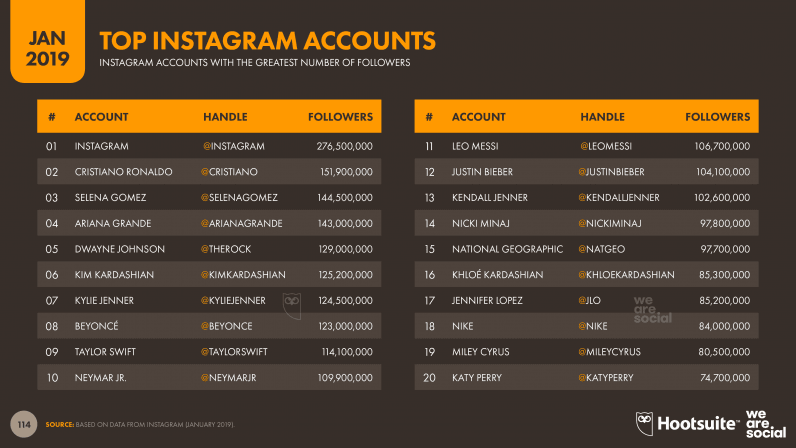 Twitter
2018 was anything but positive for Twitter, which reported a drop in active users globally compared to the previous two. This downward trend is clearly visible also in the number of advertising users of the platform, which indicates that the total addressable audience of Twitter has decreased by 1.5% since October.
Even the Twitter advertising audience is significantly oriented towards men, with the platform reporting that almost two thirds of its addressable audience is male .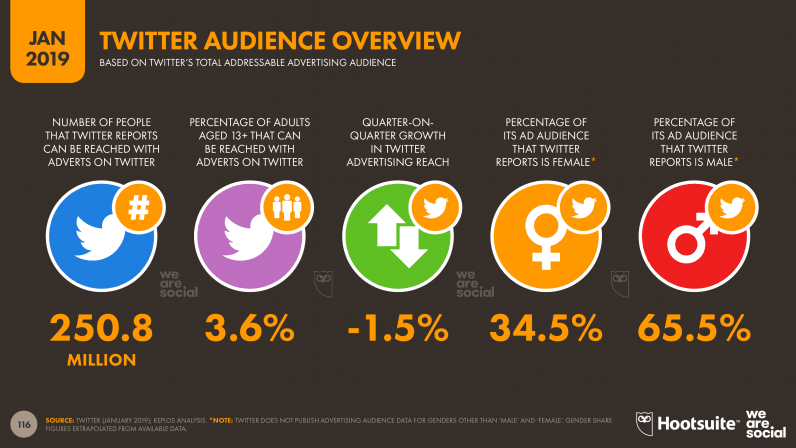 However it is important to compare the negative trends in the number of active users with other equally relevant data.
Twitter has grown to become the "excellence" platform for various influential figures around the world, from presidents and prime ministers to some of the best journalists in the world.
But above all, observers do not need a Twitter account to access all the content that these users publish on the platform, and this is where some larger data provide a very different story of Twitter's success than its earnings announcement .
While the number of "registered" users engaging with the platform seems to be declining, the overall visitor traffic on Twitter.com has actually increased in recent months. The latest SimilarWeb data suggests that Twitter.com attracted more than 670 million unique visitors in December 2018 , reflecting monthly growth of over 4%.
These figures suggest that Twitter.com's total visitors are more than twice the total addressable advertising audience of the platform. On average, these 670 million visitors spend more than nine minutes on the site at each visit, so it is clear that they do not simply stop to read one or two tweets.
Since people can access most of the value of Twitter without having to log in, the company's main source of income (advertisements aimed at logged-in users) does not seem to be synchronized with the company's main activity (hundreds of millions of visitors, regardless of whether they are logged in or not).
This is why we should begin to evaluate Twitter as a very interesting target for a media company that wants to make sense of the potential value that resides in visitors who are not logged in.
LinkedIn
The world's favorite professional social network, unlike Twitter, has achieved excellent results in the last year, with an increase in the addressable advertising audience total of over 3% in the last quarter of 2018.
It is important to note that the LinkedIn advertising numbers are based on the total number of registered users, and not on the monthly active users reported in other tools on the platform. However, the latest company data shows that advertisers can now reach more than 600 million users worldwide on LinkedIn, which tells a compelling story for brands hoping to get in touch with professionals working throughout the world.
In recent months, LinkedIn has also seen strong growth in individual countries. The largest percentage change is in Myanmar , where the platform has added about 80,000 new users in the last three months. LinkedIn has also experienced strong growth in many parts of developing Africa , but it is worth noting that the overall audience in many of these countries is still relatively small.
The company's latest advertising figures show that users have grown by 14% in Japan in the last quarter, and by 13% in both South Korea and Singapore, despite the latter having already ranked in the top 20 countries of LinkedIn for eligible penetration (data only evaluates users over the age of 18 for LinkedIn's eligible public, rather than 13+ used for other platforms).

YouTube
At the beginning of the article we pointed out that the 4.4 billion users who spend most of their time online, after Google, use YouTube as a privileged platform for watching videos, movies, streaming and listening to music.
However, unlike the other social networks, the world's favorite video platform does not share in-depth information on its advertising audience, but this year's reports include some other YouTube data that marketers will certainly find useful.
Many of these data indicate the fact that music is the main attraction for YouTube audiences , especially in high-growth markets, such as Thailand where the search for musical content sees the local word for "song" – เพลง – appear at number 13 in the global ranking of global top 20 rankings.
Movies and "television content" account for most of the rest of the list, but it is worth noting that the Fortnite and Minecraft games have both attracted huge volumes of interest on YouTube throughout 2018.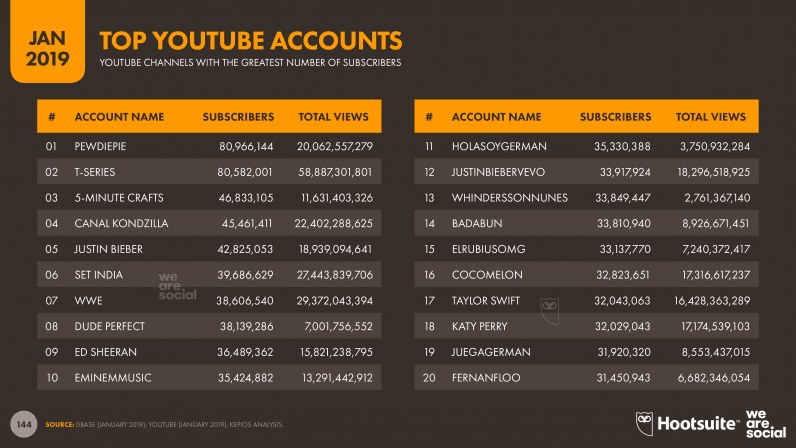 Music videos, as we said, represent nine of the ten most watched videos of all time on YouTube, with Despacito reaching almost 6 billion total views. PewDiePiePie holds first place in the global YouTube account ranking but, as has been widely reported by the media, it risks losing the scepter in favor of T-Series , an Indian music label and movie studio.
[via thenextweb.com ]
Content retrieved from: https://www.studiosamo.it/social-media-marketing/global-digital-2019-statistiche-social/.